THREE CHEESE AND TOMATO PINWHEELS
Ingredients
250g/ 90oz ready made puff pastry
1 x Jar of Marinara/Pasta sauce
50g Cheddar cheese
50g Mozzarella cheese
50g Red Leicester cheese
Half teaspoon mixed herbs (optional)
50g Sliced pepperoni (optional)
Flour for dusting
Method
Preheat the oven to 190C (Gas mark 5). Line a large baking tray with grease proof paper.

Roll out the puff pastry on a floured surface, making a large rectangle shape.

Top with the marinara and cheeses (keep some back to put on top before cooking), mixed herbs and pepperoni.

Starting at the narrow sides of the rectangle, roll the dough into a tight log shape, press down and seal.

Slice into 1 inch pieces and place on the baking tray, leaving space between each pinwheel.

Sprinkle each pinwheel with the remaining cheese.

Bake for approximately 15-20 minutes, until golden brown and the pastry is cooked through.

Serve hot.
RASPBERRY AND WHITE CHOCOLATE MUFFINS
Ingredients
200g Self raising flour
100g Golden caster sugar
1 teaspoon Vanilla extract
100g Butter (room temperature)
2 Large eggs
60g Fresh raspberries
30g White chocolate chips
Paper cake cases
Method
Preheat oven to 180C/Gas mark 4.

Beat the butter and sugar together in a large mixing bowl until light and fluffy.

Add the eggs and vanilla extract and mix until well combined.

Fold in the flour.

Add the raspberries and chocolate chips to the mixture.

Place paper cake cases on a baking tray and spoon in mixture.

Bake in the oven for 15-20 minutes, until cakes are golden.

Enjoy.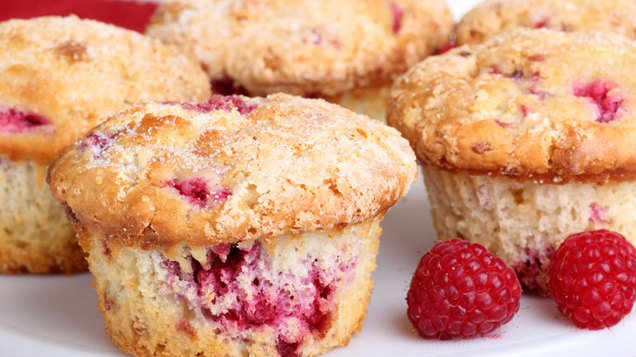 BERRY AND YOGURT CRUSH
Ingredients
500g frozen black forest fruits
500g natural greek style yogurt
2 tablespoons honey
Method
Tip the frozen fruit into a food processor.

Add the yogurt and honey.

Blend for 10-15 seconds until the mixture is very thick and smooth.

Serve immediately.
TRAFFIC LIGHT ICE LOLLIES
Ingredients
250g strawberries
4 1/2 tablespoons runny honey
3 large ripe peaches or nectarines, peeled, stoned and sliced
5 large kiwi fruit, peeled and sliced
8 ice lolly moulds
Method
Puree the strawberries with a hand blender.

Sieve the puree.

Stir 1 1/2 tablespoons of honey into the puree.

Pour the strawberry puree mix into each of the lolly moulds until 1/3 full.

Freeze until firm, this should take about 1 1/2 hours.

Repeat process with the peaches, adding 1 1/2 tablespoons of honey and freeze.

Repeat process with kiwi fruit adding the remainder of the honey and freeze.

Serve when kiwi has frozen.
APPLE TURNOVERS
Ingredients
4 Medium apples
2 tablespoons butter
Half cup brown sugar
1 teaspoon ground cinnamon
2 teaspoons cornstarch
1 sheet frozen puff pastry, thawed
1 egg
1 teaspoon water
Cooking parchment paper
Method
Heat oven to 400F. Line cookie tray with cooking parchment paper.

In a saucepan heat apples, butter, brown sugar, cinnamon and cornstarch to boiling over medium heat. Reduce heat and simmer for 5 minutes or until thickened and apples are tender. Set aside to cool slightly.

Sprinkle work surface lightly with flour. Roll out thawed puff pastry into 15 inch square. Cut into 4 smaller squares.

Beat egg and water together and brush over each square.

Spoon apple mixture onto centre of each square. Fold each in half diagonally to form a triangle and press edges together to seal. Use back of fork to crimp edges.

Place on cookie tray.

Brush with egg wash. Use a sharp knife to cut a few vents into each turnover.

Bake for 25-30 minutes to until golden.